Cornerstone's Craftsmanship
Quality Wood, Quality Finish
Unlike big retailers, we build everything on-site in our workshop. By using the best, hand-picked materials, the result is durable and of the best quality.
C
abinet frames and doors are constructed from the same hardwoods instead of a mix of inferior wood. Unlike other cabinet makers, we do not use vinyl covered sides. We pay close attention to preparing our cabinetry for a quality finish by both machine sanding followed by hand sanding. Cabinetry is finished with a hand-wiped stain followed by a catalyzed sealer, hand rubbed, sealed again, rubbed again, and completed with a final top coat of catalyzed lacquer. 
Take a Walk Through Our Production Process
Each cabinet is individually built, rather than manufactured on an assembly line. Cornerstone Cabinet Company prides ourself on our hand-crafted elegant wood cabinetry, a finely crafted value created just for you.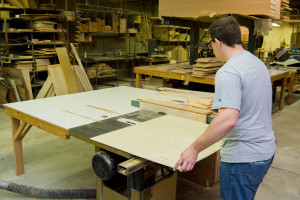 Select the Best Wood
We begin by selecting the finest hardwoods available - Cherry, Oak, Maple, and Hickory. Our craftsmen spend time sorting through wood stock for consistent color and grain match.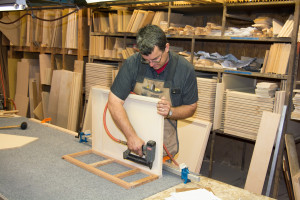 Framing & Foundation
Each frame is measured and concisely joined. The foundation of your cabinet is the box, which includes a solid frame, plywood veneered sides and no particle board. At Cornerstone Cabinet Company we hand craft your cabinetry with strength and durability in mind.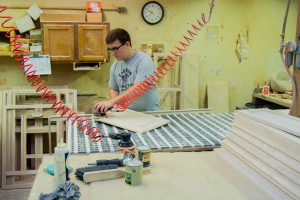 Sanding & Staining
Sanding is the key to a lustrous and rich finish. We hand sand all our cabinetry so that you are able to see the depth and beauty of the natural wood. Stains are then applied by hand and then finished off with a clear, catalyzed, conversion lacquer which seals in the beauty of the wood and allows the natural grain to shine through.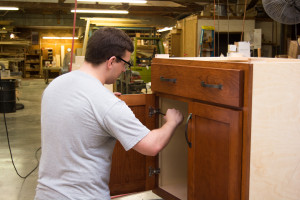 The Final Finish
The final finish staging area is where all the doors, drawers, hardware, and accessories are attached to your cabinetry. We use premium brand glides and hinges for all doors and drawers. We take pride in overseeing the finishing touches that will personalize your kitchen and make it functional, as well as beautiful.